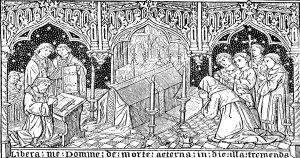 The Saint Gregory Society remembers all those deceased whose names are enrolled in the Purgatorial Society. Since the 11th century the Church has had the practice and desire to pray for the salvation the souls in purgatory. The spiritual benefits of the Purgatorial Society: the person is remembered at every First Friday Mass at 8 a.m. as well as on All Souls's Day, in the daily prayers and good works of the Society, and at a Requiem Mass (Missa Cantata) scheduled in November.
This year the Requiem Mass is on Friday, November 20th at 7:00 p.m.
Those wishing their loved ones' names to be remembered in the Purgatorial Society ought to submit the names to the Saint Gregory Purgatorial Society, P.O. Box 891, New Haven, CT., 06504. The annual enrollment is $35.00 for the first name, and $10.00 for an additional name. All benefactions support the good work of the Saint Gregory Society.