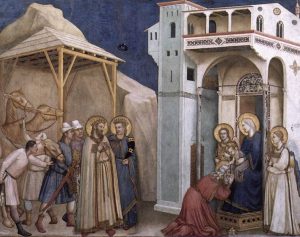 In the traditional form of our faith the Church celebrates the Epiphany on January 6th. The homage paid to the Holy Infant demonstrates that unbelievers, reading the signs given by God, point directly to Jesus as God-man, the promised Messiah, the King of Kings.
In a sermon Pope Saint Leo the Great taught:
"This is the day that David prophesied in the psalms, when he said: All the nations that you have brought into being will come and fall down in adoration in your presence, Lord, and glorify your name. Again, the Lord has made known his salvation; in the sight of the nations he has revealed his justice.
"This came to be fulfilled, as we know, from the time when the star beckoned the three wise men out of their distant country and led them to recognise and adore the King of heaven and earth. The obedience of the star calls us to imitate its humble service: to be servants, as best we can, of the grace that invites all men to find Christ."
Saint Bonaventure reflects: "At the time of the Lord's birth in Bethlehem of Judea, a star appeared to the Magi in the East, and its guiding light showed them the way to the humble King's abode. Do not you yourself turn away from the brightness of this orient star that shows you the way, but rather, joining the holy kings, accept the testimony of the Jewish Scriptures concerning Christ and defeat Herod's malice. With gold, frankincense, and myrrh, pay homage to Christ the King, truly God and truly human. In company with the first fruits of the Gentiles called to faith, adore, confess, and praise this humble God, who lies in a crib, and then, warned in a dream not to imitate Herod's pride, return to your land in the footsteps of the humble Christ" (The Tree of Life, 6).
The image is a portion of a fresco, attributed to Giotto, c. 1315-20,  in the lower basilica of Saint Francis of Assisi.