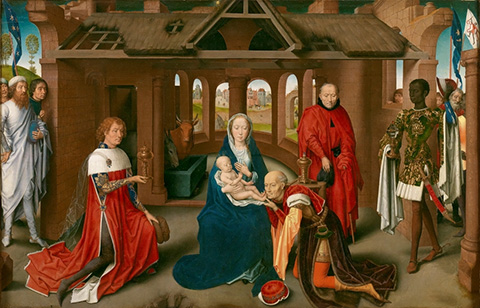 The Epiphany of Our Lord Jesus Christ will be observed in a celebration of High Mass at St. Stanislaus Church, State Street at Eld Street, New Haven, this Sunday, January 6, at 2:00 pm. The Reverend Jan Pikulsi will be the celebrant and the Reverend Matthew Dougherty, O.Praem., will be the homilist. The Schola Cantorum of the St. Gregory Society will sing the Gregorian chants for the service.
On the feast of the Epiphany the Church celebrates the revelation of Our Lord to the whole world and the shining forth in all its splendour of the Incarnation. Christians commemorate a triple manifestation of Christ: first, to the Magi, that is, to the Gentiles; then His baptism, when the Voice of God from heaven declared: "This is My Beloved Son;" and finally, in the miracle of His changing the water into wine at Cana.
Saint Leo I saw in the three Kings who sought out the Christ Child a foreshadowing of the future, as they brought in their train all the peoples of the world to adore the newborn King of Kings. That is the meaning of Isaiah's magnificent prophecy appointed for the Epistle and Gradual at Mass on the Epiphany: "All they from Saba shall come bringing gold and frankincense and showing forth praise to the Lord."
Music for the liturgy to be sung by the Schola Cantorum of the Saint Gregory Society will include the Missa Cunctipotens Genitor Deus (Vatican edition IV) chant ordinary, the Gregorian proper for the Epiphany: "Ecce advenit;" the Hymns "Jesu Redemptor omnium" and "A solis ortus;" the organ music by Maurice Duruflé and Paul de Maleingreau.