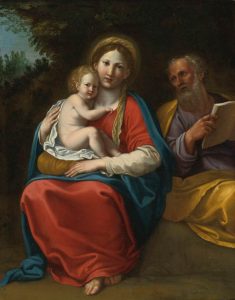 Today the liturgical calendar for the Traditional Latin Mass observes the Feast of the Holy Family. In addition to the important theological and liturgical considerations, this feast day is special to the members of the Saint Gregory Society because in 1986 we had a solemn Mass initiating the work of the Society.
Something to pray about:
Christ's human family is made holy by his presence in its midst. The primary lesson of the feast of the Holy Family, as celebrated within Christmastide, lies here. Just as the incarnate only begotten Son of God makes his family holy, so he wants to make our families holy as well. This purpose fits with the whole economy of salvation by which he comes to share our humanity in order to accomplish something that is completely beyond our capacities, namely, that, sharing in his divinity, we become children of the Father. The feast of the Holy Family is not simply intended to present an example to be imitated or a model to be reproduced, but the possibility of Christ's transforming grace made actual in our own families.  When approving the feast of the Holy Family, Pope Leo XIII wrote: "When a merciful God determined to complete the work of human reparation which the world had awaited throughout long ages, He so established and designed the whole, that from its very inception, it would show to the world the sublime pattern of a divinely constituted family. In this [Holy Family] all men should see the perfect example of domestic unity, and of all virtues and holiness" (Neminem Fugit, 14 June 1892, §1).
Archbishop J. Augustine DiNoia, O.P.
Vice President of the Pontifical Commission Ecclesia Dei
Homily excerpt for the Feast of the Holy Family, 2016