And making a gathering, he [Judas Maccabeus] sent twelve thousand drachms of silver to Jerusalem for sacrifice to be offered for the sins of the dead, thinking well and religiously concerning the resurrection, (For if he had not hoped that they that were slain should rise again, it would have seemed superfluous and vain to pray for the dead,) And because he considered that they who had fallen asleep with godliness, had great grace laid up for them. It is therefore a holy and wholesome thought to pray for the dead, that they may be loosed from sins. (2 Maccabees 12:43-46)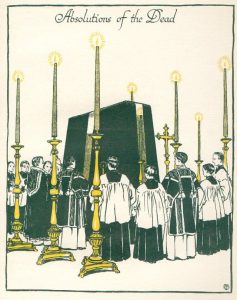 The Saint Gregory Purgatorial Society is an opportunity for you to have your loved one(s) remembered at the monthly First Friday Mass at 8:00 a.m., throughout the year. Names enrolled for the year are also remembered at High Mass offered on All Souls Day (or during the month of November depending on the schedule of the Parish).
The 2022 Purgatorial  Solemn High Mass for those enrolled in the Society will be offered on Thursday, November 10th at 7:30 p.m.
The suggested annual donation for enrolling a deceased loved one is $35 for the first name, and $10 for each additional name. The list of those enrolled will be placed on the altar of the Church when the Mass is offered.
Please enter the name of your loved one on this St Gregory Purgatorial Soc Form and place your donation (check or cash) in an envelope marked "St. Gregory Society" in the collection basket, or mail it to the St. Gregory Purgatorial Society, P. O. Box 891, New Haven, CT 06504. You may enroll individuals at any time during the year, and their names will be added to the list of remembrances. We will acknowledge your enrollees with a special certificate that will be mailed to you. Your sacrificial gift will assist the St. Gregory Society in its mission of offering the Traditional Latin Mass at St. Stanislaus Church including the music provided for the High Masses.
The Church considers the Mass to be the greatest possible prayer of intercession, as it is the perfect offering of Christ to the Father. Saint Odilo, the Abbot of Cluny (d. 1048), decreed that all of the monasteries associated with Cluny offer special prayers for the souls in Purgatory on November 2 (or at a Votive Mass of the Dead scheduled during the month of November). We stand in this tradition. At the Purgatorial Society Masses we will ask Jesus Christ to intercede on behalf of our loved ones that "Perpetual light may shine on them, and that their souls, and the souls of all the faithful departed, may rest in peace."