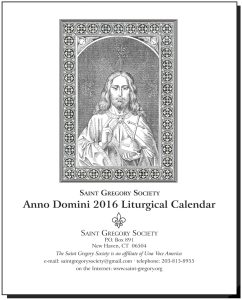 Dear Friend of the Saint Gregory Society,
As we approach the glorious time of year in which we celebrate the Nativity of Our Lord, we hope you will consider the publications of the Saint Gregory Society as uniquely appropriate gift items.
Our liturgical calendar, Christmas cards, and recordings are one way in which you can "put Christ back into Christmas" this season, and your order will help the Society continue in its mission of supporting and promoting the Traditional Liturgy. You can purchase the calendar, cards and recordings at the Society's online store.
The Officers of the Society wish you a blessed Advent and Christmastide.