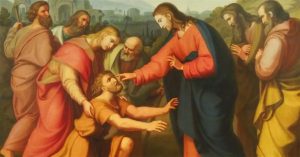 Quinquagesima Sunday will be celebrated in a traditional Latin High Mass at St. Stanislaus Church, New Haven, Sunday, February 19, at 2:00 pm. The celebrant will be The Reverend Peter Lenox, Vicar for Liturgy and Worship, the Diocese of Bridgeport..
The third of the Sundays of Shrovetide, Quinquagesima, on the fiftieth day before Easter, signals that Ash Wednesday is close at hand. The great Benedictine abbot, Dom Prosper Guéranger, speaks of Quinquagesima as a "time of Abraham" because of Abraham's "docility and devotedness in following the call of his God."
In the Gospel of St. Luke on this day, our Lord prepares His
apostles for His coming sufferings, that is, His sacred Passion in Jerusalem. The blind man represents the sinners who break their relationship with God, rejecting the offer of the promises of the Kingdom because of fallen man's own selfishness in pride. The cry of the blind man is our cry, too: "Jesus, Son of David, have mercy on me!." This prayer moved the heart of Jesus who stopped, called out to him, and healed him. This personal encounter prompted our Lord to ask the blind man to name the desire of his heart: "What do you want me to do for you?" the Lord asks him. "Master, let me receive my sight," the blind man answers. "Receive thy sight; thy faith hath made thee whole."
Quinquagesima Sunday invites us to ask for the grace that the blind man had been given: sufficient awareness to beg for the Lord's mercy in hearing our prayers for forgiveness of sins so that we may live in perfect freedom. Are we as Catholics prepared to be docile and devoted, like Abraham, like the blind man, before the promptings of the Holy Trinity?
Music for the service performed by the Schola Cantorum of the St. Gregory Society, will include the Gregorian chant 'Missa Orbis factor' (Vatican edition XI), the chant proper for the Mass (Esto mihi), The plainsong hymn, "O Quam glorifica," polyphonic motets by Nicholas Renouf and Claudio Monteverdi, and organ music by Guillaume Nivers and Jean Titelouze.