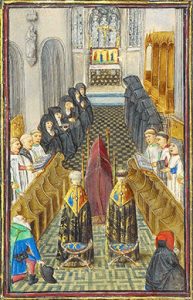 Faithful Catholics are exhorted to dedicate the month of November to remembrance and prayers for the Souls in Purgatory. We begin special observances on November 2, the Feast of All Souls, and continue and continue in our private devotions throughout the following days of the month.  A particularly important observance for members and friends of the St. Gregory is the annual Requiem Mass offered for those souls enrolled in the St Gregory Purgatorial Society.
The annual Saint Gregory Purgatorial Mass will be celebrated on Thursday, November 11, at 7:30 pm, at St Stanislaus Church, New Haven. The traditional Gregorian chants for the Requiem will be sung., and he absolution will be prayed at the catafalque.
We encourage you to enroll your departed loved ones whom you would like remembered at the altar of the Lord on this occasion and at the 8:00 am First Friday Masses throughout the following year. The enrollment may be downloaded here:  St Gregory Purgatorial Soc Form. This form may be printed out and mailed to the Society by November 6, or placed in the offering basket at the November 11 Mass .