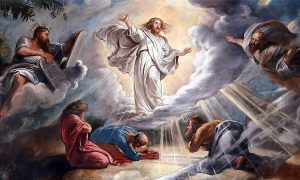 The Second Sunday in Lent will be celebrated in a traditional Latin High Mass at St. Stanislaus Church, State Street at Eld Street, in New Haven on March 5 at 2:00 pm. The celebrant will be the Reverend Richard G. Cipolla, Pastor Emeritus, St. Mary's Church, Norwalk.
Between Moses and Elias on Mount Tabor, Jesus shows forth his divine glory, thus foreshadowing His resurrection. He in Whom His Father was well pleased has joined Himself in fellowship with us, even taking on flesh like unto our sinful flesh, as St. Paul says. He died on the cross to make us co-heirs of His glory and the well-beloved children of His Father in heaven.  He is our elder brother and head; in our prayer we should claim kinship with Him; we should obey His law and unite ourselves with Him in our endeavor to purify ourselves and raise ourselves up towards God.  The texts of the liturgy of this second Sunday in Lent put before us all those dispositions of soul that should be ours in God's presence in this glorious manifestation of the divinity of Jesus.
May the light of the grandeur and glory of Jesus transfigured prepare us for a contemplation of the humiliation of His Passion.
Music for the service performed by the Schola Cantorum of the St. Gregory Society, will include the Gregorian chant Missa Orbis factor (Vatican edition XI), the chant proper for the Mass (Reminiscere), and polyphonic motets by Giuseppe Ottavio Pitoni, and Leone Leoni.