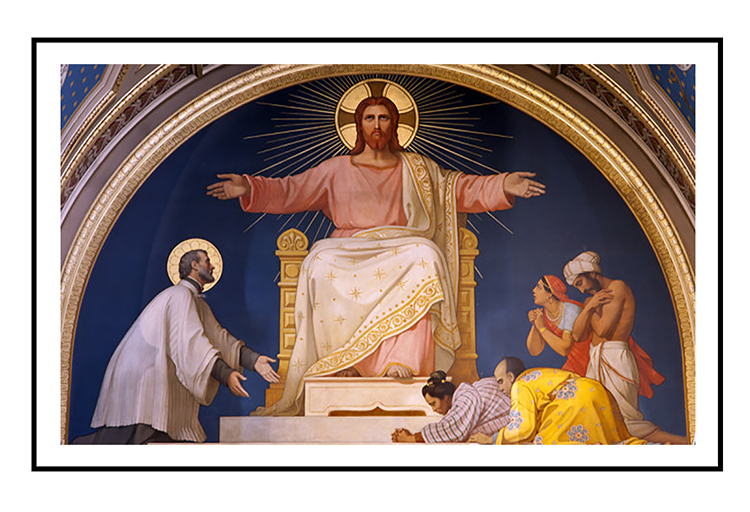 The Feast of Christ the King will be observed in a celebration of High Mass at St. Stanislaus Church, State Street at Eld Street in New Haven, on Sunday, 28 October, at 2:00 pm. The Reverend Jan Pikulski will be the celebrant, and the Schola Cantorum of the St. Gregory Society will sing the Gregorian chant for the service. A guest preacher will be with us, Father Matthew Doughtery, O.Praem., a Norbertine canon of the Abbey of Saint Norbert and currently a student at Yale.
The Feast of Christ the King was established by Pope Pius XI in 1925 with the encyclical, Quas Primas, to be celebrated on last Sunday in October. Not coincidentally, this date is celebrated by Protestants as "Reformation Sunday." The Gospel centers on the dialogue between Pilate and Our Lord on Good Friday, wherein Pilate asks if Christ is a King. It ends with, "Pilate therefore said unto him, Art thou a king then? Jesus answered, Thou sayest that I am a king. To this end was I born, and for this cause came I into the world, that I should bear witness unto the truth. Every one that is of the truth heareth my voice."
The liturgy of the Mass concludes with two special additional elements: the Litany of the Sacred Heart and the Act of Consecration before the Blessed Sacrament exposed. The Act of Consecration is a supplication for those who do not hear the Truth through his Church and are in error, Protestant, Jew and Moslem. The service ends with Benediction.
Music for the service will include the Gregorian Mass Ordinary XI ("Orbis factor"), the proper Gregorian chants for Christ the King, the Hymn "Vexilla Christus inclyta," a setting of the hymn "Festum nunc celebre" by Guillaume Dufay (1397-1474), and organ music by Girolamo Frescobaldi (1583-1643).