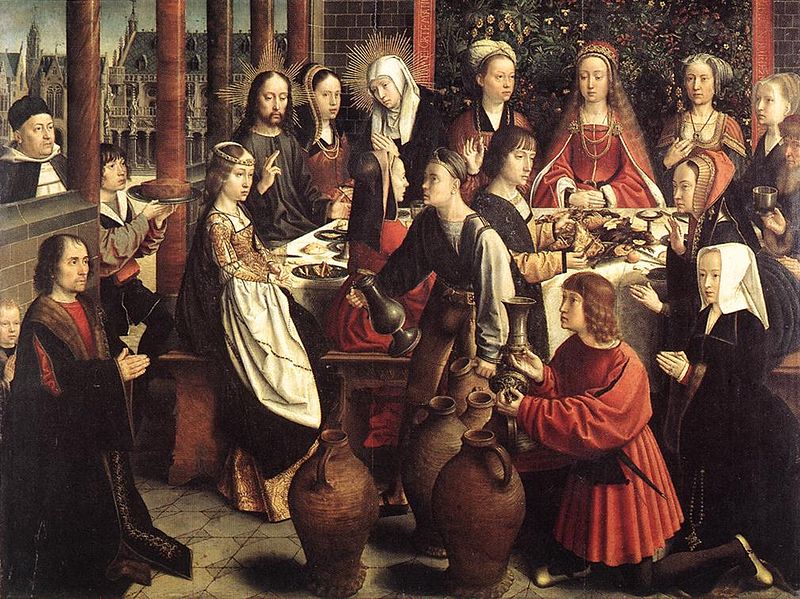 The Second Sunday after the Epiphany will be observed in a celebration of High Mass at St. Stanislaus Church, State Street at Eld Street, New Haven, this Sunday, January 20, at 2:00 pm. The Reverend Matthew Mauriello will be the celebrant, and the Schola Cantorum of the St. Gregory Society will sing the Gregorian chants for the service.
Saint Augustine observes in a homily read as a lesson at Matins on this day, "Our savior was invited to the wedding feast at Cana, and He went there to reveal to us the mystery typified by this wedding, that is, the union of Christ with His Church." St. Thomas Aquinas further noted that the conversion of water into wine is a symbol of transubstantiation, the greatest of all miracles, whereby the wine of the Eucharist becomes the blood of the covenant of peace which God has made with His Church.
Let us all then, at this Epiphanytide heed the exhortation of St. Paul in the Epistle for this feast that we as members of the mystical Body, of which Christ is the Head, have those same dispositions of charity and humility that were His.
Music for the Sacred Liturgy to be sung by the Schola Cantorum of the Saint Gregory Society will include the Missa de Angelis (Vatican edition VIII) chant ordinary, the Gregorian proper for the Epiphany: "Omnis terra adoret te;" motets by Tomás Luis de Victoria and William Byrd; and organ music by Johann Pachelbel and J. K. F. Fischer.