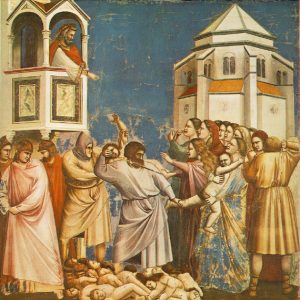 Our Church gives us, on this fourth day of Christmas, the  liturgical commemoration of the baby boys –martyrs — the very first martyrs (you'll recall that Saint Stephen, whose feast was commemorated on December 26th, was the first martyr of the Age of the Church).
Scholars tell us that  Bethlehem was a small town so the the number of the Innocents was probably no more than 25. These boys  died not only for Christ, but in His place.
The vestments are red or purple, the color of mourning; the Alleluia and Gloria are not sung.
Laurence Housman gives us a poem, "The Holy Innocents"
When Christ was born in Bethlehem,
Fair peace on earth to bring,
In lowly state of love He came
To be the children's King.
And round Him, then, a holy band
Of children blest was born,
Fair guardians of His throne to stand
Attendant night and morn.
And unto them this grace was giv'n
A Saviour's name to own,
And die for Him Who out of Heav'n
Had found on earth a throne.
O blessèd babes of Bethlehem,
Who died to save our King,
Ye share the martyrs' diadem,
And in their anthem sing!
Your lips, on earth that never spake,
Now sound th'eternal word;
And in the courts of love ye make
Your children's voices heard.
Lord Jesus Christ, eternal Child,
Make Thou our childhood Thine;
That we with Thee the meek and mild
May share the love divine.