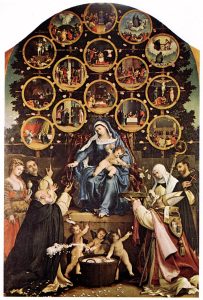 Reminder – the Pope has asked us to pray the Rosary *every day* in the month of October for the defense of the Church against the attacks of the Evil One.
He's asked us, also, to add the prayer "Sub tuum præsidium" (We fly unto thy protection, O holy Mother of God…) and the Prayer to St. Michael the Archangel at the end.
NB: The Book of Revelation 12 talks about a great battle between the dragon (the Evil One) on one side and St. Michael and "the woman" (the Virgin Mary and the Church) on the other side.
The Church will always be protected by Mary, The Holy Mother of God, and St. Michael the Archangel.