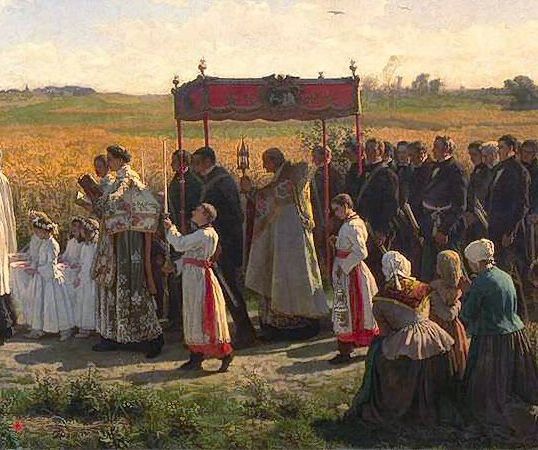 The Feast of the Most Sacred Body and Blood of our Lord Jesus Christ, or Corpus Christi, will be celebrated in a Solemn High Mass in the traditional Latin form at St. Stanislaus Church, State Street at Eld Street in New Haven, on Sunday, June 11, at 2:00 pm. The Mass will be followed by a Procession and Benediction of the Most Blessed Sacrament. The celebrant for the service will be The Rev. Robert Turner, Pastor of St. Ambrose Parish, North Branford.
The origins of the Feast of Corpus Christi date from the early 13th century when St. Juliana of Mont-Cornillon urged the French hierarchy to establish a feast celebrating the Real presence of the Body and Blood, Soul, and Divinity of Jesus Christ in the elements of Eucharist. In 1268 Pope Urban IV instituted the feast of Corpus Christi universally in the Western Church. The pope requested that St. Thomas Aquinas compose the texts for the liturgy of feast, which include the propers sung at Mass, notably the sequence Lauda Sion, as well as the chants sung in the procession and Benediction of the Blessed Sacrament.
The Benediction that follows the service is the supreme devotional ceremony of adoration of the Real Presence of Jesus Christ in the Eucharist, in which prayers and hymns are addressed to Our Lord in the Host exposed in a monstrance placed on the altar. The concludes with the reposition of the Sacrament in the tabernacle.
Music for the service, performed by members of the Schola Cantorum of The Saint Gregory Society, will include the Gregorian Mass Ordinary XI, "Orbis factor," motets by Ludovico da Viadana and Jean-Baptiste François Lallouette, the proper Gregorian chants, and organ music by Girolamo Frescobaldi and Claudio Merulo.