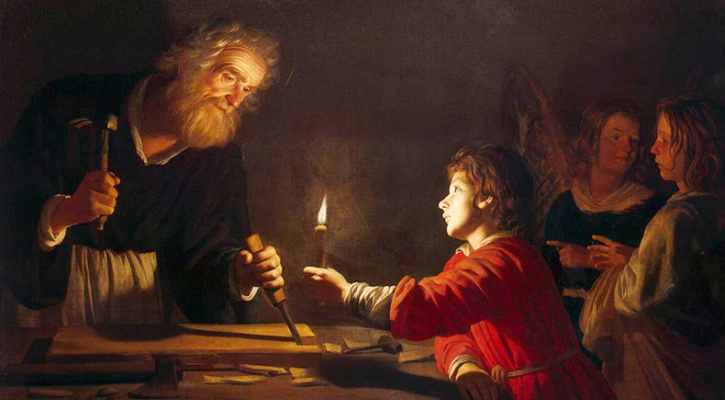 The Feast of St. Joseph, Spouse of the Blessed Virgin Mary, Workman, will be celebrated in a High Mass in the traditional Latin form at St. Stanislaus Church, State and Eld Streets in New Haven, on Sunday, May 1, at 2:00 pm. The celebrant will be The Reverend Canon Joel Estrada, Pastor of St. Patrick's Oratory in Waterbury.
In 1870 Pope Pius IX solemnly proclaimed St. Joseph the Patron and Protector of the Universal Church. In 1955 Pope Pius XII instituted the Feast of St. Joseph the Workman and decreed that a new Mass in the saint's honor be said on May 1st. It is not by chance that this day was chosen. May 1st is a Communist legal holiday in honor of the radical workers. In contrast, the Holy Father set aside May 1st to give honor to St. Joseph and to restore dignity to faithful Christian laborers.
By the work of his hands St. Joseph provided sustenance for the Holy Family as husband of the Blessed Virgin Mary and foster-father of Our Lord. The child Jesus worked beside Joseph in his shop in Nazareth. Let us pray for the patience and humility to emulate St. Joseph who fulfilled his duty in his daily toil and protecting the purity of the Christian home.
Music for the service, sung by members of the Schola Cantorum of The Saint Gregory Society, will include the Gregorian Mass Ordinary for Eastertide (Vatican Edition I: "Lux et origo," motets by Orestes Ravanello and Charles Gounod, the Gregorian Mass proper for St. Joseph, "Sapientia reddidit," and organ music by Eugène Gigout and Léon Boëllmann.
The remaining 2022 St. Gregory Society Liturgical Calendars are now discounted 50% (now $6, plus $4 shipping) while they last.
CLICK HERE TO ORDER