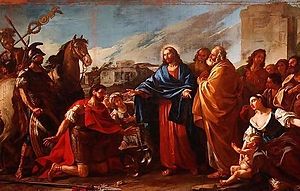 The Twentieth Sunday after Pentecost will be observed in a High Mass in the traditional Latin form at St. Stanislaus Church, State Street at Eld Street in New Haven, on Sunday, October 15, at 2:00 pm.  The celebrant for the service will be The Reverend Peter Lenox, Episcopal Vicar for Liturgy and Worship, Diocese of Bridgeport.
The texts of the Liturgy during the October reflect on how merciful God is to his children when they repent of their unfaithfulness. The Epistle at Mass on this day exhorts us to turn from worldliness in order to be filled with the Holy Ghost and offer praise and thanks to God.  In the Gospel, our Lord heals the dying son of the nobleman because the man has shown faith in Him.
Let us ask God to nourish our own faith, so that it becomes unshakeable ind triumphant after the example of the faith of nobleman in the Gospel
Musc for the liturgy, sung by the Schola Cantorum of the Saint Gregory Society, will include: the Gregorian Mass proper for the 20th Sunday, "Omnia quae fecisti"; the motets "Non avertas faciem tuam" and "Adoramus te, Christe" by Orlando di Lasso; and organ music by Girolamo Cavazzoni and Girolamo Frescobaldi.