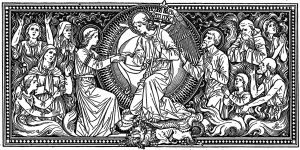 The Traditional Latin Mass will be offered at 5:30 p.m., on Monday, 2 November 2015, for All Souls' Day.
"If we had no care for the dead," St. Augustine noted, "we would not be in the habit of praying for them."
One of the Spiritual Works of Mercy is to pray for the dead. The age-old custom of visiting the cemetery to pray for the dead during November, especially within the first eight days, is a venerable tradition. During the first eight days of November, the faithful who visit the cemetery to pray for the faithful departed by praying for the Pope's intentions using the Lord's Prayer, the Creed, and receiving sacramental confession, Eucharistic Communion, receive a indulgence.
The Catechism of the Catholic Church teaches: "The Christian meaning of death is revealed in the light of the Paschal Mystery of the Death and Resurrection of Christ in whom resides our only hope. The Christian who dies in Christ Jesus is 'away from the body and at home with the Lord' (2 Cor 5:8)" (1681).
You may want to unite your prayers with a prayer given to us by Saint Gertrude the Great that connects the merits the Sacrifice of the Mass and our hope in the mercy of God:
Eternal Father, I offer Thee the Most Precious Blood of Thy Divine Son, Jesus, in union with the Masses said throughout the world today, for all the holy souls in Purgatory, for sinners everywhere, for sinners in the Universal Church, those in my own home and within my own family. Amen.
During the Octave of All Saints there are opportunities for a plenary indulgence:
applied only to the souls in Purgatory, gained on the 2nd by making a visit to a church to pray the Our Father, and the Creed, or,
applied only to the souls in Purgatory, gained by visiting your beloved dead, sometime during the week between November 1 to November 8, offering the simple invocation to God for the dead, called the "Eternal Rest" prayer is used:  Eternal rest grant unto him/her (them), O Lord; and let perpetual light shine upon him/her (them). May he/she (they) rest in peace. Amen.
During your visit to the graves of your beloved, make sure the resting site is properly cared for, sprinkling them with holy water, and adorning the graces with flowers (especially chrysanthemums and marigolds) to symbolize the Eden-like paradise that man and woman was created to enjoy.