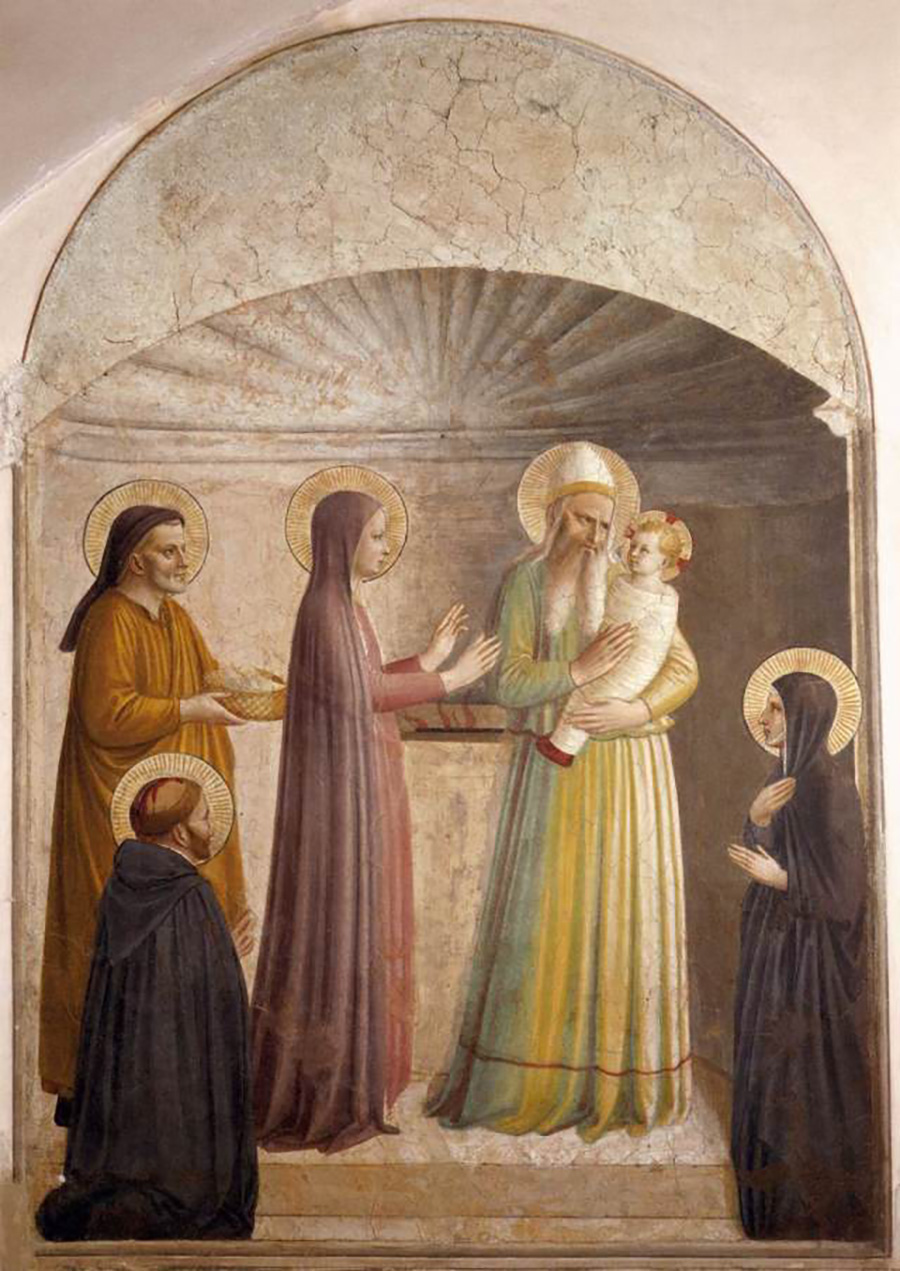 The feast of the Purification of the Blessed Virgin Mary, commonly as Candlemas, will be celebrated this Sunday, February 3, at 2:00 P.M., at St. Stanislaus Church, State and Eld Streets, New Haven. The Celebrant will be the Father Peter J. Langevin, Chancellor of the Diocese of Norwich, the Deacon will be Father Matthew Doughtery, OPraem and the Subdeacon will be Bill Riccio.
Shakespeare's Juliet rhetorically asked "what's in a name?" and concluded that a rose by any other name would smell just as sweet. When it comes to a liturgical feast we should also ask "what's in a name?" The feast day on February 2, which we will observe this Sunday, the 3rd, is known by a few different names: The Purification of the Blessed Virgin Mary, The Presentation of Our Lord, The Hypapanty (Meeting), and Candlemas. Each of these names highlights a different aspect of the same event, when Mary, in obedience to Mosaic Law, goes to the Temple forty days after giving birth to make the prescribed sacrifice, and the aged Simeon and Anna recognize her son Jesus as the Savior of the world.
In terms of naming the feast, the issue is whether it is given a Christological or a Mariological emphasis. The Roman Church has always viewed February 2 as a feast of the Blessed Virgin, and the earliest calendars call it The Purification. The Byzantine Church, on the other hand, views the feast Christologically and calls it The Meeting of Our Lord, commemorating the first time Jesus meets His people publicly in the Temple. The name Candlemas neither refers to Jesus nor Mary but to the blessing of candles that occurs on this feast in the West. While the origin of the blessing of candles on this day is obscure, and possibly pagan in origin, the candle has been interpreted Christologically by St. Anselm stating that the wax represents the virginal flesh of the Christ child, the wick is His soul, and the flame His divinity. Regardless of what a particular rite may call this feast, the same mystery of salvation is commemorated and celebrated.
The solemn blessing of candles and procession through the church by the entire congregation, with the servers holding the newly blessed lit candles, followed by Solemn Mass, comprise one of the loveliest services of the Church Year. Please bring family and friends to participate in this festive celebration.
Please bring candles to bless during Mass. A table will be set up in the sanctuary.
Music for the service performed by the Schola Cantorum of the St. Gregory Society, will include the Gregorian chant Missa Marialis (Vatican ed. IX/X), the chant propers for the procession and Mass, polyphonic motets by Victoria and Byrd, and organ music by Charles Tournemire, Paul de Maleingreau, and Alexandre Guilmant.