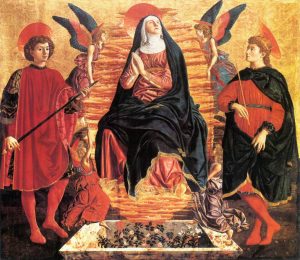 (Vatican Radio) On August 15th each year, the Catholic Church remembers the Assumption of Our Lady into Heaven.  Different traditions hold that the Virgin Mary left this earthly life between three and fifteen years after Christ's death and Resurrection.  She was assumed into heaven, accounts say, as she reposed in eternal sleep – either in Jerusalem or in Ephesus, in modern day Turkey.
Early accounts from the Holy Land reported that a Christian cult venerating Christ's mother had grown up around a place on Jerusalem's Mount Zion, just south of the Old City walls.  The spot, known from early times as Hagia Maria, continues to this day to be the site of prayers to Our Lady.  Today, Benedictine monks care for the Catholic Church of the Dormition built there, over the ruins of a series of early Christian shrines.
Tracey McClure sat down with the noted scholar and author Fr. Peter Stravinskus, who has led us on reflections on the holy sites in the land of Christ's birth – to ask him his thoughts on this Jerusalem shrine, celebrating the Virgin's death and Assumption into heaven…
Listen to Tracey McClure's conversation with Fr. Peter Stravinskus
Holy Mass will be offered at 5:30 p.m. on Monday, August 15th, the Solemnity of the Assumption of the Blessed Virgin Mary.