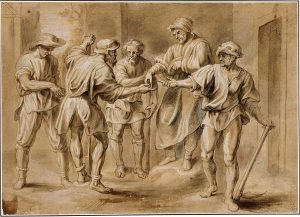 We see in liturgical history, the Church in France in the thirteenth century there is a change in how we live the Lex Orandi tradition with the singing of Vespers on the eve of Septuagesima Sunday, the 9th Sunday before Easter (the Byzantine Church hears the gospel of the Prodigal Son thus beginning their preparation for Great Lent). At this time we ought to notice the visual and auditory elements change: organ is silenced, the Alleluia is buried, violet is worn for priestly vesture. This verse appears:
We are unworthy to sing a ceaseless Alleluia. Our sins bid us interrupt our Alleluia. The time is at hand when it behoves us to bewail our crimes.
Read more about this pre-Lent period by Dom Prosper Guéranger, OSB in his The Liturgical Year:
John Betjeman eulogized "Septuagesima" in his Poems in the Porch.
Septuagesima – seventy days
To Easter's primrose tide of praise;
The Gesimas – Septua, Sexa, Quinc
Mean Lent is near, which makes you think.
Septuagesima – when we're told
To "run the race", to "keep our hold",
Ignore injustice, not give in, and practise stern self-discipline;
A somewhat unattractive time
Which hardly lends itself to rhyme.