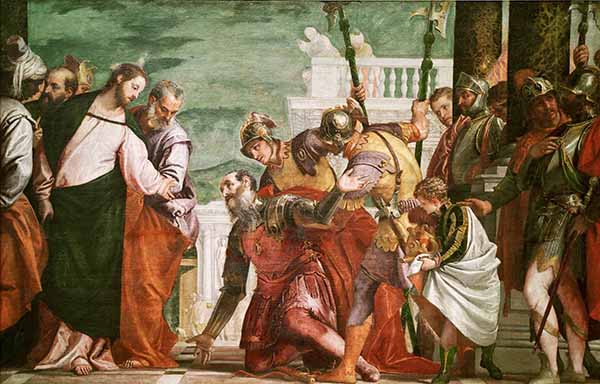 The Third Sunday after the Epiphany will be observed in a celebration of Solemn High Mass at St. Stanislaus Church, State Street at Eld Street, New Haven, this Sunday, January 23, at 2:00 pm. The Reverend Richard G. Cipolla, Pastor emeritus of St. Mary's Church, Norwalk, will be the celebrant; The Reverend Robert L. Turner, Pastor of St. Ambrose Parish, North Branford will be the decon; and members of the Schola Cantorum of the St. Gregory Society will sing the Gregorian chants for the service.
The texts of the liturgy for this day testify to our Lord's universal royalty and divinity. The two miracles recounted in the Gospel have the same meaning.  The first was worked on behalf of a Jewish leper whom Jesus commanded to make known his cure to the priests "for a testimony unto them"; the second was on behalf of a Roman centurion who bore witness, by his words of humility and trust, of his faith in Christ.  All nations, then, are called to enter into the Kingdom to share in the heavenly feast at which the divinity of Christ will be the food of their souls.
As children in the kingdom of Heaven, let us renew our faith in Christ's divinity, and let us give testimony to it by living by the rule of Christian charity, that great commandment which is emphasized by St. Paul in today's Epistle. "Charity" says, St. Augustine, "is the effect of faith in Jesus Christ."
Music for the liturgy to be sung by the Schola Cantorum of the Saint Gregory Society will include the Missa "Orbis factor" (Vatican edition XI) chant ordinary, the Gregorian proper for the Epiphany: "Adorate Deum omnes angeli," the motets "Confitemini Domino" by Nicholas Renouf and "Benedicam Dominum," by Leon Leoni, and organ music by Girolamo Cavazzoni and Girolamo Frescobaldi.